By Bianca Kapteyn
Global Pet Expo recently held in Orlando Florida last month.
Presented by the American Pet Association Industry (APPA) and Pet Industry Distributors Association (PIDA) – it's a 3-day annual pet industry show with nearly 6.3 miles of display aisles of every conceivable, edible, consumable product for all creatures from the land, sea and sky.
Billed as "the greatest show on earth? " – certainly the world's largest, with 3,018 booths, more than a thousand exhibitors, and 6,000 attendees (buyers and media) from around the globe says it all.
I spent two days walking the show floor to find out what's new in smart technology, pet fashion, dog food & treats and innovative products.
Here's a fraction of what I had seen.
 Entertainers, Reality Stars getting into the business of pets. 
Country Star Miranda Lambert teamed up with leading pet manufacturer, PetMate to create "The MuttNation Pet Collection." A collection of bedding, collars, leashes, toys, apparel – a la country style chic with a rock & roll flair.
Grammy winner, rapper and duo member of OutKast, and dog lover Big Boi teamed with Bobbi Panter, the creator of Bobbi Panter, a natural shampoo line–launched "Big and Bobbi," for dogs with skin issues. The product is salt-free, tear-free custom formula in two distinctive lines and offered in five formulas
Bring on the A-show!  WWE (World Wrestling Entertainment), and its partnership with PetMate, unveiled bold new collection featuring beds, collars, leads, and cool toys.  The collection features mega-themes within the WWE, and with fan-faves like Superstars John Cena, The Rock, Stone Cold Austin and the Bella Twains. Dedicated fans would be so proud to have their pooch take home the "Gold."
Reality star of Real Housewives of Beverly Hills Lisa Vanderpump launched her very fashionable own "Vanderpump Pets,"collection of dog collars and leashes to dress up your own furry-fabulous pampered pooch.
Spotted
Animal Planet's series Pit Boss reality star Luigi "Shorty" Rossi and his dog Hercules hanging out.    
Intelligent technology   
If it's the goal of smart technology is to make everything more convenient and effortless – the pet industry is embracing it by integrating technology like cloud computing, sensor technology, data and apps into innovative lifestyle products for the companion animal kingdom.
Bowls, that can tell you how much food to add, with accurate weighing, high-concept collars with an activity monitor, GPS trackers, to leashes measuring how much energy was used and smart waste management solutions.
OurPets Company – Introduced the industry's first complete line of lifestyle products powered by smart technology, The Intelligent Pet Care product line is able to monitor a pet's basic needs as elimination, feeding and drinking.
There's an app for this…
BabelBark recently unveiled the first mobile application & softwear platform that connects pets, pet parents, pet vendors and veterinarians to help manage their companion pet's life with a click of button. Photo: Roy Stein & Bill Rebozo
Fashionable trends for your furry-fabulous pooches' closet
Award winning pet fashion company Hip Doggie Inc., knows a thing or two about fashion forward apparel – we're seeing adorable prints, rock 'n 'roll glam for spring and summer.  And, if its sports gear you're looking for to support your favourite team, Hip Doggie Inc., has that too.
Expect to see more fashionable non-leather materials used for collars, and even carriers.  UK-based Friendship Collars created a collection with you and your furry BFF in mind – matching dog collars and bracelets.  The Friendship Collar is the first world's PETA-approved Vegan pet product.
A walk in the woods?
This suit is designed to block out sun and protect dogs from being bitten by nasty mosquitoes and ticks. Developed in Finland by Hurtta, a company that creates plenty of outdoorsy hardcore products for dogs. Perfectly suited for short or no hair, big or little dogs in your life.
Lifestyle Décor products   
Spring has sprung, unleashing a palette of colour in toys, bedding for the companion animal kingdom.  So there will be plenty to see in various styles– whether you're into modern, traditional or shabby chic, your furry friend will thank you.
Expect to see a little French-country cottage-style in pet furnishings and accessories.  All For Paws' has come out with a new line of shabby-chic products for companion pets in your life, which can be found on Hagen.com
For the kitties…
Here's something that's outside the traditions of a cat bed – the Kitty Kasas, a habitat for cats.  Designed by the Dutch firm Studio Mango for their client ARNI Foundation  (arnifoundation.org). This organization is a 501 no-kill animal shelter based in Daytona Florida. Earnings from the Kitty Kasas collections help support the ARNI Foundation.   …Meow
Dished
Danish-based company Krusse has come up with the Buster Dog Maze dish to challenge your dog, while they're lapping up their kibble.  An innovative product designed by Frederik Lindskov and Mikkel Hansen.
Edibles  
Pet food is big business. According to American Pet Product Association's stats– In 2015, American's spent 23 billion dollars on food for their companion animals.
Its a fact what you eat and put in your body matters, and pet parents also want the kind of pet food to mirror their own lifestyle choices.   And, they're researching the companies behind the food they buy for their furry best friend.  In pet food production expect to see more regional and locally sourced similar to the way food is produced for humans – from farm to table. Apparently the pet food industry is listening.
This company has won many awards over the years for its high-standards, Canadian Alberta-based Champion Foods, makers of Orijen and Acana. In this photo, the chef is preparing samples for attendees to try from their DogStar Kitchens based in Kentucky–visually demonstrating what is fit for human consumption is the same for pet food.  Their products are locally and regionally sourced – never outsourced.   In Canada – its NorthStar Kitchens based in Alberta.
I stopped by  Wellness Natural Pet Food booth to see what's new. Wellness introduced their grain free treat Core Marrow Roasts, they're crunchy biscuits made with marrow – available in Basted Beef and Roasted Turkey, and made in the USA. Coming to a store near you.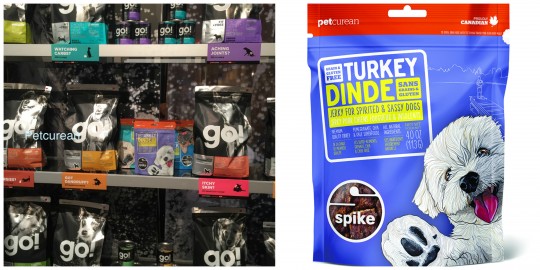 B.C.-based Petcurean introduced their new jerky treats.  I was intrigued to know where they source their venison, duck, turkey and catfish?  I was informed venison is sourced from their trusted farmers in Australia. The duck, turkey and catfish are both from Canada and the USA.
Stay tuned there will be more product news on the horizon.