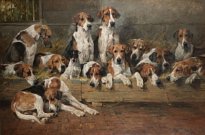 Canine Culture® is heading to New York to visit the preeminent international art auction house Bonhams on the occasion of its 28th Dog Art Sale, to get the skinny of "what's on the auction block" with noted scholar and curator Alan Fausel. AND, we're going to get the inside scoop on the Best of Show moments at the Westminster Kennel Club 134th Annual Dog Show, taking place on February 15 & 16 at Madison Square Garden, Pennsylvania Plaza.
Founded in 1793, Bonhams is the world's oldest and largest auctioneers of fine art and antiques. Keen collectors of dog art will have the opportunity to bid in person, via telephone or leave an absentee bid at Bonhams New York 28th Dog Art Sale on Tuesday, February 16th at 580 Madison Avenue.
This year's catalogue is brimming with printings by pre-eminent dog and sporting artists of the 19th and early 20th century. One notable work is;The Bitchpack of the Meath Foxhounds by John Emms (British, 1843-1912) Estimate:$500,000 – $700,000–(I wonder if they do trade-ins?). One of the highlights for Canine Culture® will be to view Charles Dickens' dog collar and to speak to David Fausel on the historic cultural significance behind the collar, and why it would resonate for today's collector. The other highlight will be to capture the: a-day-in-the-life moment of the Westminster Kennel Club dog show.   Stayed Tuned.
For more information, please visit:www.bonhams.com
For more information, please visit: Westminster Kennel Club,
Reprinted with permission, painting by John Emms, © Bonhams, New York